Timberlodge's Lumberjack Hash Browns
Nimz1466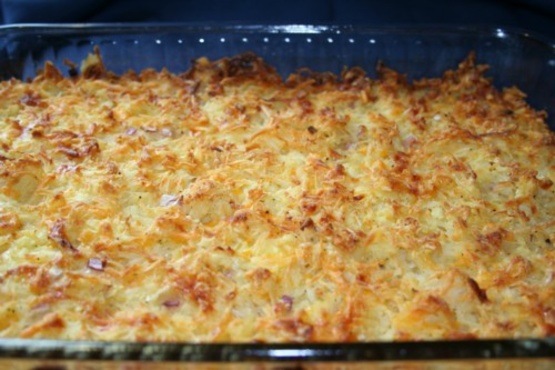 Timberlodge restaurant makes these hashbrowns as a side dish and they are wonderful. This recipe was published in the newspaper a couple of years ago. Enjoy I love these.

ooohhhhh nuuuuummmmy. Since my kids are still small I struggle not to eat the rest of the pan its that good. I crave these hash browns.
Preheat oven to 450.
In a Large mixing bowl, combine the hashbrowns, onion, shredded cheeses, salt and pepper.
Add soup and mix thoroughly.
Add melted butter and mix thoroughly.
Grease a 9X13 pan with additional butter.
Transfer the hashbrown mixture into greased pan and spread evenly. *DO NOT pack down*.
Bake for 1 hour until golden brown.
Rotate pan for even browning if necessary.
Let stand for 5 minutes before serving.