Tim Tam Caramel Ice-Cream
Tisme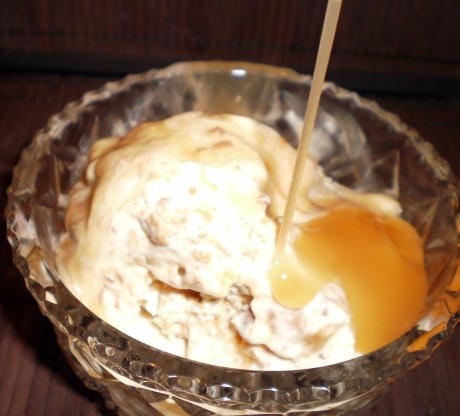 Taken from a 2004 issue of Super Food Ideas. It is easy to do and a hit with teenagers.

Top Review by Tisme
Well.......... What can I say! Crunchy, creamy, sweet and caramely.
Truly scrumptious!!!!!!!!!!
We just loved this ice-cream, and we are not big caramel fan's here!
I followed as written, although I did use caramel Tim Tams and the best of all, I just bought a cheap ice-cream to use and this recipe turned it into a top quality ice-cream.
DS who is on a health kick tried it and devoured it, although he thought it did not need the caramel sauce, because the ice-cram was so good on its own, so that is saying something.
Tim Tam's come in so many flavours now, I think this could be turned into any flavour ice-cream, I quite like the thought of using the Turkish Delight Tim Tams, and ewww rich chocolate sauce.....yummmmy.
This recipe is going to be used so many ways by me now, and buying cheap ice-cream will be the way to go for me!!!!!!!!! lol
Thanks so much katew, we all loved this ice-cream.
1000.0

ml vanilla ice cream

200

g tim tam biscuits, finely chopped

200

g jersey caramels, finely chopped
caramel sauce, to serve
Soften ice-cream in large bowl for about 40 minutes.
Time will epend on weather but do not melt completely.
Stir in chopped caramels and biscuits.
Transfer to an airtight container.
Freeze overnight.
Serve with caramel sauce.