Tillamook Beer Cheese Soup
Parsley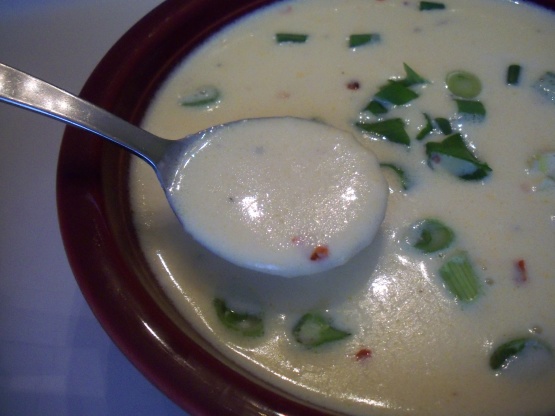 This is from the Tillamook Cheese Factory - some of the best cheese in the world!!!!! Of course I'm biased cause they're in my home state :-) This is my fave beer cheese soup -- you can use other cheese, just make sure it's extra sharp!

AMAZING! Loved it.

For everyone with the negative reviews about grainy-ness, lets have a lesson in cooking with milk.

The reason you're getting grainy gross soup is because of your milk!!! You are cooking it at too high of a temperature. Since this is milk based you should be using whole milk because of the fat content. Milk will curdle if it's heated above 180 degrees F so using a higher fat content milk helps it not curdle because fat helps the milk not separate. Don't even think about using skim milk for this recipe. This is something that needs to be cooked slowly and at a low heat. Only heat to almost boiling if you're using whole milk or cream.
Heat butter in sauté pan.
Add flour and cook on low heat.
Stir mixture until it starts to bubble.
Do not allow to brown.
Pull off fire and set aside.
Heat milk in sauce pan until it is just ready to boil.
Add garlic, salt and pepper and crushed chilies.
Stir mixture until just before boiling.
Add half of flour/butter mixture (Roux) and stir with wire whisk until at a low simmer.
Additional Roux may be added to thicken.
Stir constantly to avoid burning.
Turn down heat and add cheese and beer.
Stir to allow cheese to melt.
Texture should be smooth to the touch.
May be reheated on low temperature.
(Do not boil.).