Tilapia With Prosciutto and Sage
Ms B.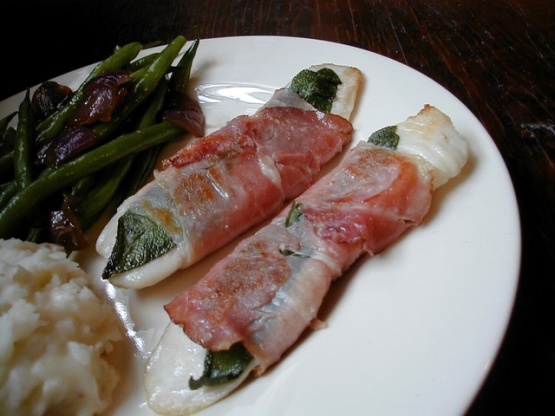 Prosciutto (Ham) and sage add deep flavor to tilapia, which is a mild fish. Separating the two sides of the fillet helps to keep the thinner part from overcooking.

This is indeed and simple and lovely dish. It was my first time eating tilapia and found it to be a much milder flavor than I was expecting.
Cut fillets lengthwise to separate smaller and larger portions, then pat dry and season with pepper. Wrap each piece of fillet crosswise in a slice of prosciutto, leaving ends of fillet exposed if necessary and tucking 1 or 2 sage leaves between prosciutto and fillet (use 1 leaf for smaller pieces of fish).
Heat 2 teaspoons oil in a 12-inch heavy nonstick skillet over moderately high heat until hot but not smoking, then sauté the 4 larger pieces of fish 4 minutes. Turn over and sauté until just cooked through, about 3 minutes more. Transfer to a platter and keep warm, loosely covered with foil. Wipe skillet clean and heat remaining 2 teaspoons oil, then sauté the 4 smaller pieces of fish, turning over once, until just cooked through, about 4 minutes total.