Tilapia With Almond Crust
averybird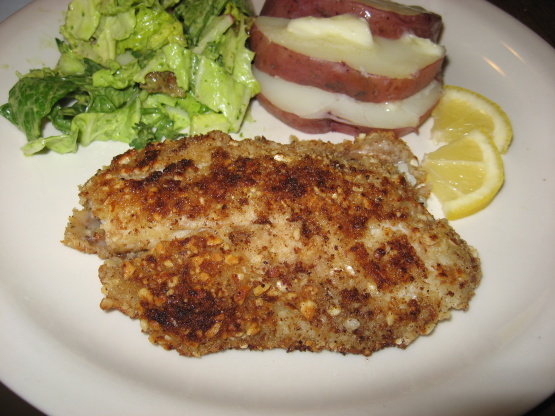 Nice firm whitefish, with a browned nut crust. For variation, use macadamias or pecans.

Loved it! Followed the recipe as written, used unseasoned panko breadcrumbs. We will definitely be having this again.
Combine bread crumbs, almonds, salt, garlic powder and black pepper in a shallow dish.
Pour buttermilk in another shallow dish.
Pour flour on a sheet of wax paper.
Rinse the fillets with water and pat them dry with paper towels. Dredge the fillets in the flour, then dip them in buttermilk. Dredge them in the almond mixture. Place the fillets on a small cookie pan that has been dusted with a bit of the almond mix and chill for about 20 minutes for the almond crust to set.
Heat one tablespoon of oil in a skillet over medium-high heat. Add two fillets, cook them about three minutes on each side until they are browned and the fish flakes when tested with a fork.
Remove them to a platter to keep warm. Add the remaining tablespoon of oil to the skillet and cook the remaining fillets. If you have a large skillet, you can do all four at once.
Serve with lemon wedges.