Tilapia Pockets With Cilantro-Lemongrass Mojo
rpgaymer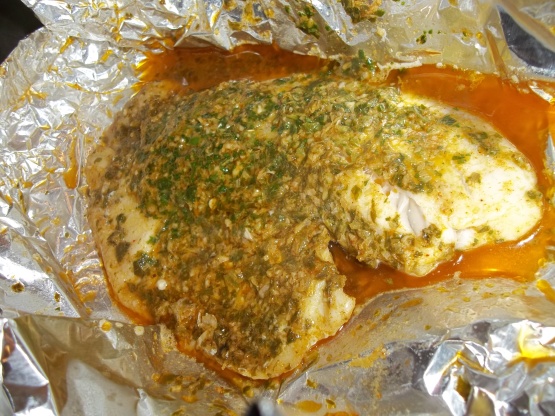 From the Food Network's Ingrid Hoffman. I haven't tried it yet, but plan to this weekend.
Great recipe! I really enjoyed the Thai flavors in the pesto, although I had to use basil as I could not find fresh mint. The fish came out very tender, and the smell that comes flowing out when you open the packets is just incredible. I ended up using 2/3 cup of olive oil, and the oil still ended up pooling in the pouch. I think a 1/2 cup or even 1/4 cup of oil would be enough for me, but the extra oil didn't really affect the flavor at all- it just looked a bit messy. [Made & Reviewed for PAC Spring 2013]
5

stalks lemongrass, root end trimmed, outer layers peeled off and stalk bruised with the back of a knife, thinly sliced (4 inches each, white bulb only)

1

cup fresh cilantro leaves (tightly packed)
1⁄2 cup fresh mint leaves, tightly packed, plus

2

tablespoons fresh mint leaves, chopped, for garnish

1

cup extra virgin olive oil

2

garlic cloves, peeled

2

jalapenos, halved, seeded and roughly chopped

1

tablespoon paprika

1

teaspoon salt

2

tablespoons sherry wine vinegar

4

(8 ounce) tilapia fillets, skinless (8 oz. each 3/4-inch to 1-inch thick)
Preheat your oven to 350 degrees F.
Place the lemongrass, all but 2 tablespoons of the cilantro, 1/2 cup of the mint, 1/2 cup of the oil, garlic, jalapenos, paprika, and salt in a food processor or blender and process until smooth. Add the remaining 1/2 cup of oil and vinegar and process until smooth. Place the fish fillets in a large baking dish, cover with the mojo and turn to coat. Marinate fish for up to 1 hour.
Place 4 (16-inch) long pieces of parchment paper on your work surface with the short half facing you. Crease each down the middle. Place a fillet in the center of the bottom half of the rectangle and pour about 1/4 cup of the mojo over each fillet and sprinkle with the remaining 2 tablespoons of cilantro. Fold the top half of over the fillet so that the top and bottom edges meet. Tightly crimp and fold the edges of the parchment working from 1 end around to the other to seal the package. Place the packets on a baking sheet and bake for 9 to 10 minutes for 3/4-inch thick fillets or up to 12 minutes for 1-inch thick fillets.
Place the fish packets on a large serving dish and open the packets tableside. Serve with juices from the packet and sprinkled with the chopped cilantro and mint leaves.