Tilapia in Mustard Cream Sauce
Hey Jude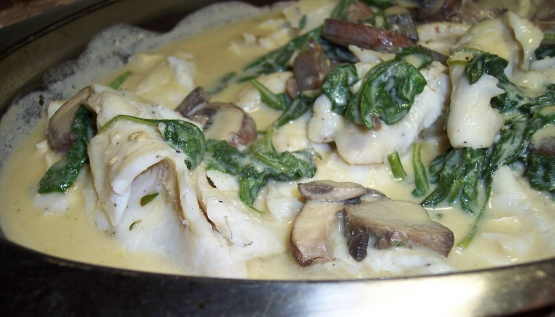 I can't say that I have made this dish yet. I have some tilapia in the freezer, so this will be made soon. I will add any changes then. Chicken can also be substituted; and tomatoes and spinach can be substituted for the mushrooms.

I made this using a mess of bluegill filets from fish my husband and I caught last month. Since my filet were so thin, I cut down the cooking time in step 3 to about 30-45 seconds and added the mushrooms at that time. When I removed the fish in step 7, I left the mushrooms in the pan, then added the cream and mustard, brought to a simmer and added two handfuls of fresh spinach and let it cook down a bit. It got wonderfully thick and delicious. Oh, and I used soy milk, just because that's all I had in the house! The sauce was wonderful and perfect served over our bluegill filets. I served this with green beans and pasta. My husband and I loved it, I'll certainly be making this again (I have 5 more pounds of bluegill filets in my freezer!). Thanks SkinnyMinnie!
Sprinkle fish with thyme, pepper, and salt.
Heat a large nonstick skillet over medium high heat and coat pan with cooking spray.
Add fish and cook 1 min on each side.
Add broth, and bring to a boil.
Cover and reduce heat, simmer 5 minute.
Add mushrooms and cook uncovered 1 min or until mushrooms are tender.
Remove fish from pan and keep warm.
Add cream and mustard to pan; stir with a whisk until well combined.
Cook 1 min or until thoroughly heated.
Serve sauce over fish.