gailanng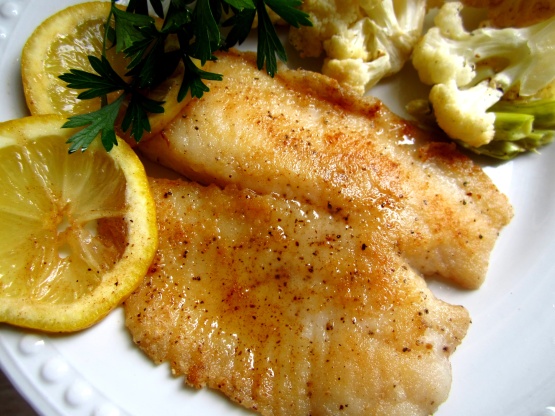 I got this recipe from one of those cards at the grocery store. I am always trying to find new ways to cook fish as I am not fond of it to begin with and Tiliapia is often one of the less expensive fillets.
4

tablespoons flour
1 1⁄2 lbs tilapia fillets, about 1/2 inch thick

1

tablespoon oil

6

tablespoons butter, divided

1

lemon, juice of

1

lemon, cut into thin slices
minced fresh parsley
Season flour to taste with salt and pepper. Dredge fillets in flour mixture, shaking off excess.
Heat oil with 2 Tablespoons butter in a large nonstick skillet over medium heat. Add fillets without overlapping, cook in batches if needed.
Cook until golden brownon bottom, about 3 minutes. Turn fillets and cook 1 to 2 minutes more or until opaque through the thickest part.
Drain fillets on paper towel, transfer to a platter and keep warm. Add remaining 4 Tablespoons butter to the skillet and heat until it froths.
Add lemon juice and lemon slices, swirl pan to heat through. Pour butter sauce over fillets immediately before serving. Sprinkle with parsley if desired.