Tilapia in a Potato Crust
Debra M.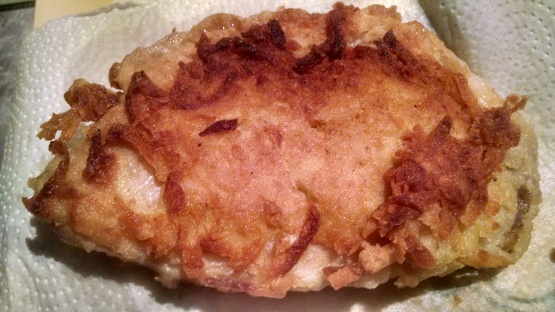 This was posted for the Zaar World Tour 2006. Fish and potatoes are two of the staples of Scandinavian cooking. The crust keeps the fish nice and moist.

was ok.. not like the restaurant i had it in... seasoned the fish,flour,potatoes.. still didnt take like i seasoned it... as a diabetic i cant season my food after i cook it... dont know what i did wrong.. was crunchy with the potatoes.. 1 piece was not fully cooked.. had to nuke it... but all were browned..will try it again.. as i love this fish. my boyfriend did add tarter sauce to it.. oh well.lol
1⁄2 lb tilapia fillet, rinsed and dried

2

tablespoons lemon juice, fresh
1 1⁄2 lbs potatoes, peeled and grated
nutmeg, freshly grated, to taste

3

egg yolks

3

tablespoons flour
oil (for frying)
Season the tilapia filets with salt and pepper and sprinkle with lemon juice.
Place the grated potatoes into a cheese cloth or clean tea towel, fold all corners together and twist the top to squeeze out as much of the moisture as possible.
Season the grated potatoes with salt, pepper and nutmeg.
Add the egg yolks.
Coat the fish filets with flour, making sure that any excess flour is shaken of.
Cover both sides of the filets with the poato mix, pressing it on lightly.
In a large non stick skillet heat some oil.
Fry the fish filet on one side until the potato crust is golden brown, then turn over and fry the other side until evely golden.
You might have to use two skillets or do this in batches, don't overload the skillet.
Serve with a fresh salad on the side for a wonderful meal.