Skitz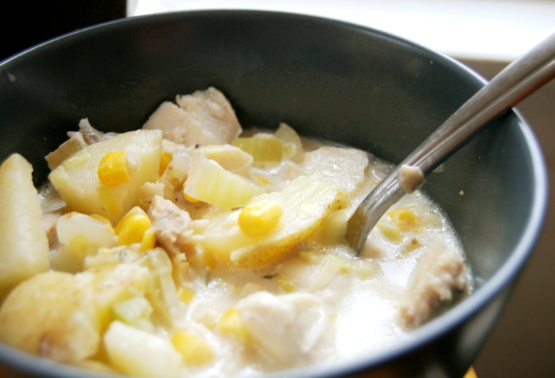 This light soup is a great way to slip corn and tilapia(of course)into your late-summer menu. Make it a meal; enjoy with a green salad & tomatoes a nice vinaigrette and of course oyster crackers. We made this soup and it was delicious! **However, the recipe said it was low in calories 288 and when zaar figured it out it came to be 324** Now, the question is - which one is right? Posted on August 13, 2008

Top Review by Skitz
Awesome awesome! My boyfriend and I both liked it. He enjoyed the light spicyness and I love that it's low calorie/low fat...great way to use up the tilapia we bought on sale! I did not add the bacon to mine, but added an extra pinch of salt to make up for it.
Chop bacon and cook in a large Dutch oven over medium heat until crispy, 3 to 4 minutes; drain on paper towels.
Add oil & cooking spray to the pan.
Add celery, leek, onion, mushrooms, salt, black pepper, pinch of crushed red pepper flakes(if using) and cook until the vegetables just begin to soften, about 2 minutes.
Add broth, potatoes and corn.
Bring to a gentle simmer.
Cook until the potatoes are just tender and the corn is cooked through, about 8 minutes.
Stir in tilapia and thyme; return to a gentle simmer.
Cook until the tilapia is cooked through, about 4 minutes more.
Remove from the heat.
Stir in half-and-half, lemon juice and the reserved bacon.
Garnish with chives, if using.