Tilapia Carpaccio (Raw Marinated Fish Fillet)
Thorsten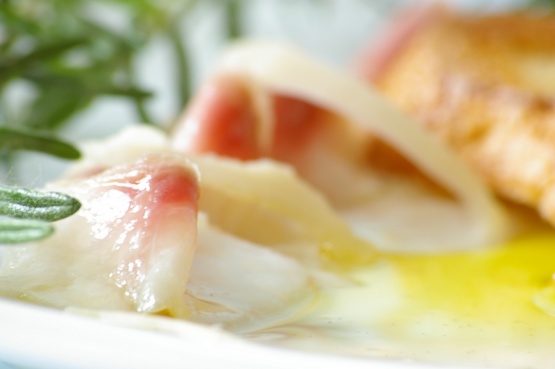 For this fish recipe you need Tilapia Fillet of Sushi quality. The fish must be extremely fresh, because it will not be cooked, just marinated with lemon and then in a lukewarm vinaigrette type sauce. BUT if you can get Tilapia of sushi quality this dish is a fantastic appetizer or a very light summerly fish dish. Serve it it with a green salad or cherry tomatoes and with a fruity white wine like Pinot Grigio. Something different. I love it.
Pat dry the tilapia fillet and wrap it in cling film. Place it for about 30 minutes in the freezer.
Take it out of the freezer and cut it into very thin slices. The slices should be as thin as possible. Freezing will help here, because the fillet is firm after freezing. It is important, that the slices are very thin.
Place the tilapia slices on a plate in a single layer and drizzle the lemon juice over the fish. Set aside.
Heat olive oil over medium heat (don't let it get too hot). Cook ginger, garlic, vanilla bean and rosemary sprig for about 5 minutes. Garlic, ginger should not turn brown.
Remove from heat and let cool slightly.
Add aceto balsamico, salt and pepper to taste to make a lukewarm vinaigrette.
Arrange the tilapia fillets on a serving platter and drizzle with the vinaigrette.
Top it with Parmesan and serve with some roasted bread.