Tilapia and Ginger-Sesame Roasted Vegetables
PaulaG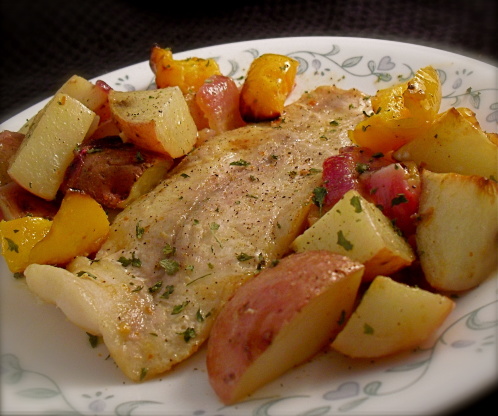 Easy to make - the ingredients have been culled from a number of different recipes to create a new dish. The completed dish makes a complete meal.
Preheat oven to 350 degrees.
Combine olive oil, sesame oil, lime juice, pepper flakes, salt and ginger.
Place potatoes, pepper, and onion in a pyrex-type dish. The dish should be just long enough to fit both fillets and about 2 inches deep.
Place the vegetables in the baking dish and toss with the oil-spice sauce.
Bake for 25 minutes, stirring once.
Remove from oven and push the vegetables to one side of the cooking dish. Place first fillet in dish and cover with the vegetables. Push vegetables aside to place other fillet in dish and cover it with the remaining vegetables.
Bake for another 20 minutes or until tilapia is thoroughly cooked. It should flake and still be very moist.