Tikka Masala Chicken & Capsicum Wraps
Mandy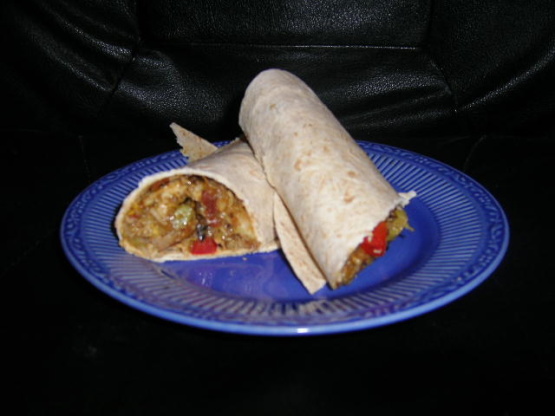 These are a great easy to make & filling meal. I used some leftover shredded chicken & leftover rice to whip these up. Went beautifully with the chappati wraps I had in the cupboard.

As I was preparing this recipe, I had already made the chicken breasts for our dinner recipe, so this was a breeze to put together for a quick lunchtime treat. I split a piece of pita bread in half, and wrapped this delicious rice, chicken, pepper, and lovely sauce up in it, added a bit of sliced onion and enjoyed my lunch. I love the hot peppers and this really gave it a nice zing. Yummy! Will make the easy special treat again....thanks, Mandy!
Heat oil & saute onion for 2 minutes.
Add chicken and saute for approx 5 mins, add capsicum and saute until chicken is cooked through.
Add simmer sauce and rice and heat through.
Warm 6 wraps & fill with chicken filling.