Bobtail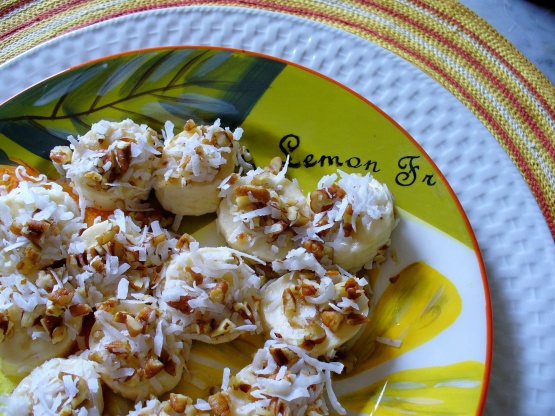 This is from a cook book by the name of First Capital Favorites of York, PA. I have not tried it but the ingredients and the simplicity of the recipe appealed to me, so I have shared it with you. Cook time is chill time. Hope you enjoy!

Great recipe!!!!!! Very flavorful and healthy!!!! I scaled this down for only one serving and was perfect. Instead of pecans, I used raisins and almonds! Yum! Thanks for the recipe Bobtail!
Place pecans and coconut in a small paper bag.
Peel bananas and cut into 5 slices.
Roll banana slices in the juice.
Put banana slices in the bag and shake.
Put banana slices on a tray.
Refrigerate for 1 hour and serve.