Tijuana Maniac Beef Enchiladas
Bayhill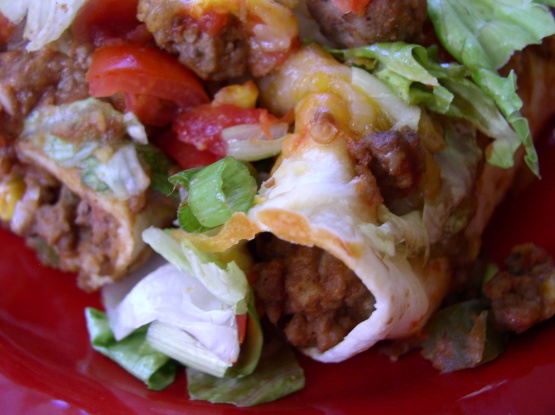 A change from chicken enchiladas. Be a maniac! Adjust the "maniac" ingredients to whatever you like(that's why it's called maniac); add the full cup of sour cream for creamier filling. Adults and kids love this!
*Made for ZWT III* Delicious! These enchiladas go together very quickly and easily and have lots of flavor. I used the entire 1 cup of sour cream and the filling was perfect. I made these as written except that I changed the assembly a little. I added more meat mixture (approx. 1/4 cup) in each enchilada. I spread any remaining meat over the entire top of the enchiladas. I then spread 2 cups of a "medium" salsa over the meat mixture and covered the entire top with a 4-cheese Mexican cheese blend. I baked them in a 9x13" dish and ended up with 8 large enchiladas. I served these topped with shredded lettuce, chopped tomatoes, and sliced green onions. My family loved these and gave them 2-thumbs up. Thank you for sharing this quick, easy, and delicious recipe...it is definitely a keeper!
Preheat oven to 350 degrees F.
Cook corn until tender and drain; set aside.
In large heavy skillet, heat 2 tablespoons olive oil over MED-HI heat.
Add meat and brown; add onions and peppers and cook until softened, but not browned.Drain, if needed.
Reduce heat to MED and add taco seasoning; mix well.
Stir in refried beans, rice, and sour cream; cook for about 10 minutes to heat through.
Remove from heat.
To assemble: Spoon about ½ cup meat mixture into bottom of well-greased casserole; spread.
Spoon about 1 tablespoons of meat mixture into tortilla on one side; add spoonful of corn; and roll up.
Place seam side down in casserole.
Repeat with all tortillas; reserving about 1/2 cup meat sauce.
If some corn is left-over, spread down one side of casserole, slightly covering about 1/2inch of one end of tortillas, spread remaining meat sauce down in a row beside the corn; next, add the salsa row; and then, the shredded cheese row.
Cover with foil and bake for about 30-40 minutes or until bubbly.
Remove foil; return to oven for 10 minutes to slight brown cheese.
Serve on chopped onions, tomatoes and lettuce.