flower7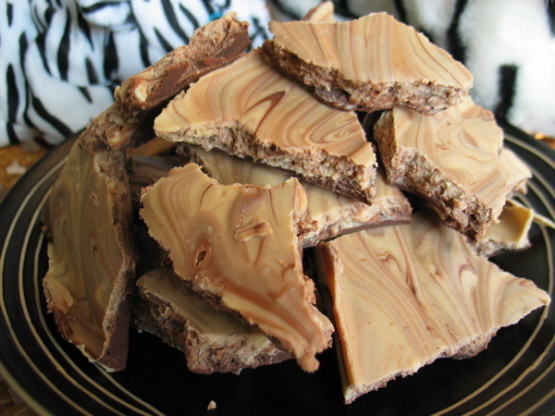 A chocolate and peanut butter lover's dream come true! This is a sweet that is a specialty of the John MacMillan Presbyterian Church's "Christmas Affair," held every fall in Bethel Park, PA...They make it every year because it "roars" and people love it! :) (Prep time does not include time it takes for "butter" to set.)

I have been making this for years, and it is a great "give-away." We call it Tiger Butter Bark, I don't know why. It is one of my favorites, the right blend of peanut butter I guess. Looks like something you've spent a lot of time on, but is so simple to make.
Melt milk chocolate in double boiler.
At the same time, melt white chocolate over double boiler.
Pour melted milk chocolate into lined 11 x 15-inch pan.
Spread to cover pan.
Immediately combine melted white chocolate with peanut butter.
Pour over milk chocolate in pan.
Swirl 2 layers with a fork in such a way as to make"tiger" stripes.
Allow to set.
Cut into small squares with sharp knife.