Nimz1466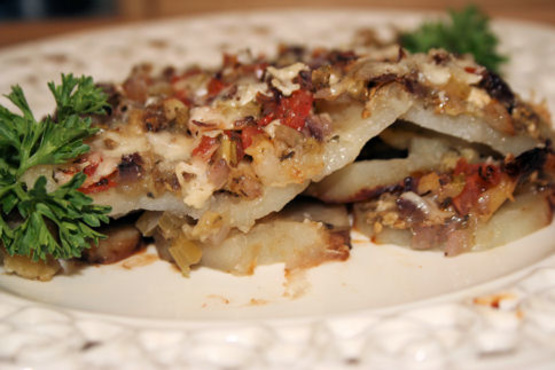 This recipe is from The Australian Women's Weekly's 'Potatoes: over 100 exciting ways to cook the humble spud', recently reprinted by popular demand. The recipe is "from the Apulia region in the south-east of Italy, (where) a tiella is both a homely recipe made with eggplants and potatoes, and the name of the dish in which it is traditionally cooked. You can also use desiree or spunta potatoes for this recipe." I am aware that potato types may differ from country to country, so I've included in the notes below the Women's Weekly's descriptions of the three types of potatoes recommended for this dish.

This was very good. I cut it down for the two of us and it still made a lot. I think I'll increase the portion of eggplant to potatoes next time to get more eggplant flavor and may play around with the herbs some. I did add a little Parmesan cheese to the top the last 5 minutes of baking. A nice way to use eggplant. Thanks bluemoon :)
Cut the eggplants into thin slices, sprinkle with salt; stand in colander in the sink or over a large bowl for 30 minutes; rinse eggplant well under cold water; pat dry with absorbent paper.
Preheat the oven to moderate (180°C/350°-375°F/4-5 gas mark.
Combine the tomato, onion, celery, garlic, chopped oregano and parsley in a medium bowl.
Using a sharp knife, mandoline or V-slicer, cut the potatoes into thin slices; pat dry with absorbent paper; place half of the potato in a lightly oiled 2-litre (8-cup) baking dish; top with half of the eggplant, half of the tomato mixture, then drizzle with half of the oil; repeat layering with the remaining potato, eggplant, tomato mixture and oil.
Cover the dish with foil; bake in a moderate oven for 1 hour; remove the foil; bake for a further 30 minutes or until the vegetables are tender; sprinkle the tiella with the oregano leaves and serve.
Notes: One Australian metric tablespoon holds 20ml; North America, New Zealand and the UK use 15ml tablespoons. All cup and spoon measurements are level. Desiree potatoes are long and oval, with a smooth pink skin and creamy yellow flesh; sebago potatoes are round with white skin, shallow eyes and white flesh; spunta potatoes are large and oblong with cream skin and yellow flesh: all are classified as good for baking.