Tibetan Momo (A Dim Sum Dumpling from Tibet)
MsSally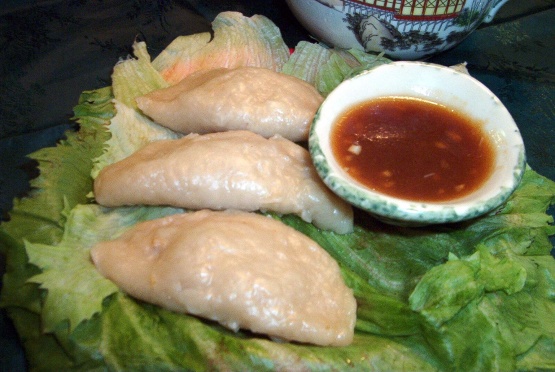 Love dim sum, dumplings of all types and momo is excellent. Found the recipes at recipecottage after watching restaurant makeover and Chef Lynn's reaction to it. I actually use bison because of its leanness since i cannot find yak. Simple flavors but that is why it is important to use enough ginger and garlic. Test the momo by dropping a mini pea size ball into the oil and correct seasonings if needed. I like a strong ginger flavor. Will post ingredients for Sherpa Momo and Nepalese under directions as well, same dough and methods as the Tibetan. Go crazy and use vegetarian or whatever you like, but I think the first one is the best to try and get the authentic Tibetan taste to build on. If you want a dipping sauce with them, this seems like a good one: Simple Soy Dipping Sauce final serving amounts are guesstimates, depends on the size you make them.

My stepdaughter and boyfriend came back from Nepal raving about momo, so I had to give it a try and we had these as part of our family Friday night supper last week. Not having access to kosher yak meat ;-) I used ground beef. I minced up the onions, 5 cloves of garlic (not 3) and a healthy dose of Microplaned ginger and added it to the beef. I tried another recipe for momo earlier with a much more complicated spice list and that was not too well received. However, this recipe got raves. I had a bit of filling left over and just fried that up in some olive oil and added some crushed tomatoes and served that as a sauce over the momo. I got 28 dumplings out of this batch and not a single one was left to nosh on the next day. I will most certainly make these again, they were a hit!
2

medium onions, finely chopped

1

lb yak meat, finely chopped (or ground beef bison or chicken)

2 -5

cm minced ginger or 2 -5 cm galangal

2

tablespoons soy sauce

4

cups flour
oil or vegetable oil cooking spray
Mix the flour with enough cold water to make a fairly stiff dough.
Knead it well and roll small pieces into thin rounds,about 3 1/2 inches in diameter.
Mix meat, onion, garlic, soy sauce, ginger and salt together.
Put a teaspoon of meat mixture in each little pancake and fold over. Pinch, flute or pleat the edges together so the momo looks like a half-moon or is round shaped.
Lightly coat a bamboo or metal steamer with vegetable spray and arrange momo so they do not touch. Cover and steam over boiling water for l0-15 minutes.
Momo also can be cooked in broth and served as a soup or fried.
NEPALESE meat filling.
1 cup buffalo meat, ground or minced.
l large onion, minced.
2-3 cloves garlic.
2.5 cm. piece ginger.
1/2 teaspoon salt.
1/2 teaspoon chili powder.
1/2 teaspoon turmeric powder.
1 tablespoon ghee or clarified butter.
1/2 teaspoon cumin seed powder.
oil or vegetable oil spray.
2 cups+ flour.
SHERPA Meat Filling.
4 chicken breast halves,boneless, minced.
2 minced onions.
5 cloves garlic (or to taste), diced.
3 tbs ginger, to taste, or one large piece diced.
1-2 tablespoons soy sauce.
salt, paper and accent to taste.
1 teaspoon garam masala (optional).