3 Reviews
Definitely 5 star-tasting, and very easy, though you'll have to monitor the water level if you are making it on the stove top (which is how I made it), which makes it strictly a weekend recipe for me. I added about 1/4 cup water three times. I had pickapeppa sauce and hot curry paste, so I couldn't see leaving it out. Since my BF doesn't like spicy that much, I used 1/4 teaspoon of each. I could see using 1/2 teaspoon next time. Instead of canned corn I used frozen. Thanks, this was delicious and BF liked it a lot too. Looking forward to leftovers.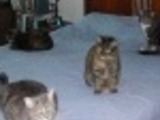 Nice and spicy, but still quite tolerable. I used curry powder instead of curry paste but made no other changes. I made this on the stovetop, but I can see how this would be perfect for the crockpot. This is a delicious and easy meatless stew. Thanx!

I really loved this spicy stew. The flavors of the garlic, cumin, curry and chili pepper flakes are amazing, couple that with the beans, tomatoes and corn and you have a combination that is a winner. Thanks for a tasty lunch. Made for the Dining Daredevils team for ZWT5.

Tia's Spicy Bean Stew