I saw a similar recipe years ago and tweaked it so much that it has become a household staple when I'm in a hurry. You can tone down the heat a bit by using diced tomatoes with green chilis instead of with jalapeno. Also please note that you can heat this on medium heat and then simmer 25-30 minutes if your in a hurry. I tend to let it simmer for a few hours or place in my crockpot. Enjoy!
Directions
Get ready for easy! Put everything in a sauce pan or crockpot. Mix together. Cook on medium heat, then turn to simmer for 25 - 30 minutes, then low/warm for several hours. Add water as needed. I serve over rice or egg noodles. We have also eaten this "as is" with a hearty french bread for dipping! Is even better the next day!
Reviews
Most Helpful
Definitely 5 star-tasting, and very easy, though you'll have to monitor the water level if you are making it on the stove top (which is how I made it), which makes it strictly a weekend recipe for me. I added about 1/4 cup water three times. I had pickapeppa sauce and hot curry paste, so I couldn't see leaving it out. Since my BF doesn't like spicy that much, I used 1/4 teaspoon of each. I could see using 1/2 teaspoon next time. Instead of canned corn I used frozen. Thanks, this was delicious and BF liked it a lot too. Looking forward to leftovers.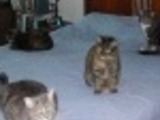 Nice and spicy, but still quite tolerable. I used curry powder instead of curry paste but made no other changes. I made this on the stovetop, but I can see how this would be perfect for the crockpot. This is a delicious and easy meatless stew. Thanx!

I really loved this spicy stew. The flavors of the garlic, cumin, curry and chili pepper flakes are amazing, couple that with the beans, tomatoes and corn and you have a combination that is a winner. Thanks for a tasty lunch. Made for the Dining Daredevils team for ZWT5.