Tia Maria Sour Cream Dip for Fruit
Ninna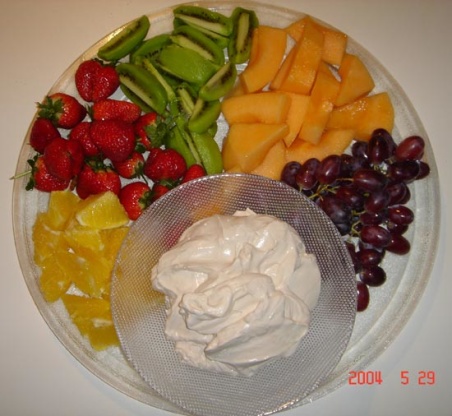 I first tried this years ago when a friend passed on the recipe. I whipped the ingredients together until thick and loved the result but later found my friend just stirred hers so her dip was quite liquidy. I actually prefer it whipped but either way guests enjoy it. I have also used Godiva or Mozart Liqueur (chocolate) depending on what I have available. I made this yesterday with Mozart Liqueur for JanS - she requested I submit the recipe.
300

ml pure sour cream, light will not whip

2 -3

tablespoons brown sugar, to taste

4

tablespoons Tia Maria, to taste
Whip ingredients together until thick.
Serve with fresh fruit cut into reasonable sized chunks for easy dipping.
I like to use rockmelon, pineapple, kiwi fruit, strawberries and then maybe another fruit in season, whatever looks nice arranged in colours.