lazyme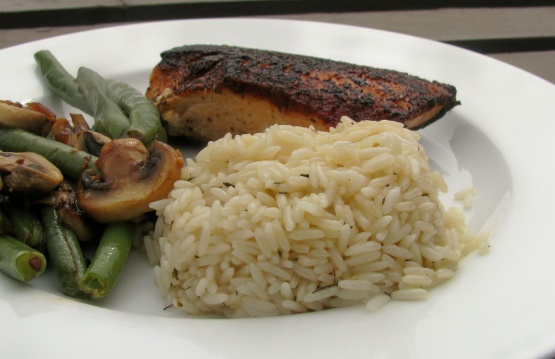 My mother has used this for a stuffing for turkey and cornish hens, but I like to mix in some peas and serve it as a side dish. This is the recipe for the basic stuffing my mother uses.
4

cups cooked white rice

1

tablespoon ground thyme
1⁄3 cup butter
1⁄2 teaspoon garlic salt (optional, I added this after my mother's recipe)
Mix the butter, thyme and garlic salt into the rice until mixed.
As a stuffing: Stuff into cornish hen or turkey and bake until bird is done. I serve the stuffing still inside the hen, but I take it out of the turkey and sometimes bake the rice a bit more for the added crisp. (My family likes crispy rice :) ).
To crispify: Throw the bowl into the oven at 350 for 8-10 minutes or until it's slightly crispy on top.
As a side dish, I mix as above and add peas and serve. I imagine the rice would work well mixed with other veggies, but we just love our peas so much that it's normally what I add. Trust me and use real butter, and don't omit.