Thyme and Mustard Carrots
JustJanS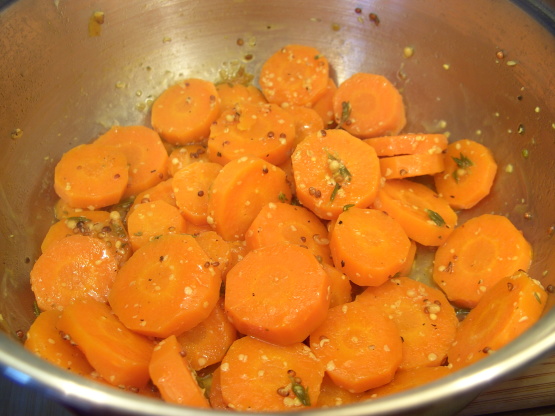 Nice carrots with the mustard and thyme in them.

Top Review by Tisme
I made this revipe to serve with a roast for dinner. I needed something extra to serve and decided on this recipe. Everything I needed was in hand...well so I thought, I had run out of thyme (pardon the pun)! So I used chives and fresh parsley instead. It took a while for the stock to reduce, and I wondered after about 15 minutes, if it would ever happen, but it did! I removed the lid at the 20 minute mark and the stock reduced perfectly! This was a wonderful recipe, DS absolutely loved these. Now dont ask me why but he compared these carrots to the taste of gummi bears, how I dont know but he adored these carrots! The rest of the family are not carrot lovers but they also commented on how nice they were. As for me I loved them and they are the perfect side dish to cook and reduce down while waiting for your the rest of your dinner too cook! Thanks Jan a keeper here!
Melt the butter in a pan over moderate heat.
Add the carrots and stir to mix well.
Add the wine and stock and bring to the boil.
Reduce the heat to a simmer then add the mustard thyme and a pinch of salt.
Cover and cook for 20 minutes; if there is any liquid left after cooking, remove the lid and continue until it has reduced to a sticky glaze.
Remove from the heat and season with black pepper before serving.