Thunder Bay Oven Fried Chicken
diner524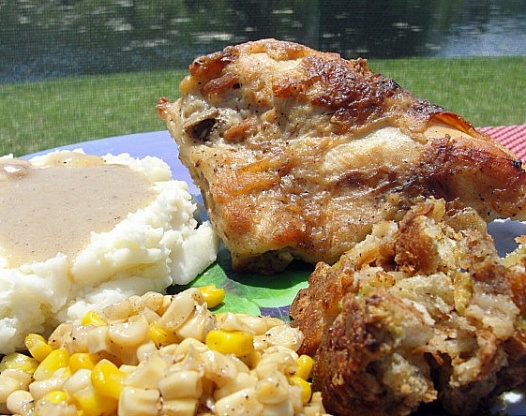 My grandmother sent me this community book from Thunderbay, it's pretty old, the dishes are amazing and very easy to fix. This was one of my grandmothers favourite dishes. I remember having this when we were little kids visiting her.

Every once in awhile I snoop around to see what new recipes reviewer Gerry has tried. If they get her okay, then I know they're good. This was no exception--first off, it came out of the oven looking picture-perfect. I could tell by my husband's face this was his kind of meal. He ate two helpings with clear instructions to SAVE leftovers. Getting any reaction out of this food-insensitive man is alone worth five stars! Thank you for sharing an easy to prepare meal that has that old-fashioned look and comfort food appeal.
Add salt, pepper, sage and 1/2 cup of flour together.
Dip chicken in seasoned flour.
Brown all over in hot oil.
Dressing- Combine bread cubes, onion and melted margarine with 1/2 of the soup to bind.
In a roasting pan place the bread dressing on bottom of pan.
Add the chicken to the top of the dressing.
Mix 2 tbsp of flour to 1/2 can of chicken soup and add 1 1/2 cups of water (*you want 2 cups of liquid for gravy).
Pour over top of chicken and dressing.
Cover tightly and bake at 350 degrees for 1 hour.
Serve with mashed potatoes, carrotes, yellow beans and peas.