Thru-The-Garden-And-Orchard Waldorf Salad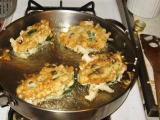 I developed this version of the now-famous salad specifically hoping that someone will adopt it for this year's Recipe*Zaar 2+5 Challenge. This is an upbeat Waldorf Salad that your family will ask you to make again.
Directions
Make the dressing by whisking ingredients together. Refrigerate.
Place the chopped apples in a large non-metallic mixing bowl and add the lemon juice. Toss lightly.
Add all other ingredients (except dressing) and toss lightly.
Add dressing and toss lightly for a final time.
Refrigerate, covered, for one hour before serving.
NOTE: Blanched pea pods, shocked in ice water can be substituted for the carrots if desired. Also, other types of lettuce may be used instead of iceberg.
Also, servings (3) are based upon serving the salad as a light main dish.
Most Helpful
Very good. The dressing was great, I used dijon mustard in it and apple cider vinegar. I tossed the apple with the vinegar rather than lemon juice. I made and served all at once without time to sit. I left out the carrots and cauliflower and added arugala and mixed baby greens and used romane lettuce. I also added bacon so DH wouldn't complain about the lack of meat. I think prosciutto would also be good. I served this as a meal by itself and it was very good and filling. I thought maybe some cut up turkey or chicken would be good in it if someone wanted to make it more of a meal. I also thought it would go really well with grilled swiss cheese sandwiches. Very good, I will be making this again, probably never the same way twice. I loved the dressing and will probably be using it on other salads. Not only is it good by quick and easy with ingredients I always have on hand. Thanks so much for posting this great salad.
Well the basic was a five with the no fat mayo. The second time I did some tweaking to make it a bit more main meal for us since I was being lazy that day. The changes: I used pink lady apples, Romaine Lettuce, added tomatoes [vine ripe butter soft ready the type that melt in your mouth] and onion [1/2 vidalia] I also juggled the dressing a bit. No fat mayo [as I said works very well], natural rice vinegar, honey and Dijon mustard. It was a bit more of a savory variation on the waldorf salad. This salad takes variations very well. Additional or tweaked fruits or veggies very well. Well worth the 5 stars. Wife said "can I give it six?"
Thank you for posting this. I am having a Home & Garden Party Grand Opening next Saturday followeed by a "Glad you're not going to Iraq after all" party. This will be a hit with both crowds. What a treat it will be. Thanks so much.