Thrown-Together Chocolate Cake
Prep 20 mins
Cook 45 mins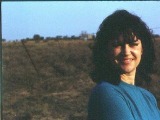 I got this recipe from an old lady who lived across the street from me in a suburb of Johannesburg. All my down-home cake recipes flopped at that altitude (6,000 ft), until she gave me this one. She'd lived there all her life. It's definitely not fancy, but whether at lower or higher altitudes, it's always worked for me -- and it's literally thrown together. I'm writing it down as she gave it to me.
Directions
Oven: 350 deg F/ 180 deg Celsius.
Grease 1 fairly large or 2 smaller cake tins with butter.
(Later I increased the butter to 1/2 cup, and also added 1 teaspoon mixed spice.).
Put all ingredients in a mixing bowl, more or less in the order given. Beat well with electric mixer until creamy and smooth.
Ladle into greased tins, tap to remove some air bubbles, and bake in the pre-heated oven for 45 mins - 1 hour.
(Two smaller tins might bake faster than 1 large tin. Do test with a skewer before removing).
Turn out and cool.
Most Helpful
Very easy to make! I tagged in Photo Tag. Didn't have superfine sugar, so used regular white. Used 1 C white flour, 1/2 C wheat, margarine, 1/3 C cocoa (based on previous reviewer's comment), 2 tsp coffee powder. I put it in a bundt pan and it baked in 45 minutes. I put chocolate frosting over it and it was delish! I think the cake would have been perfectly moist without the frosting. Went over well with entire family! :)

I'm no baker, my cakes when I have attempted them have risen like Mt Krakatoa! When Zurie said this cake would work for me, I wasn't so sure. I tried it out and wow! It worked! I no longer bake volcanoes! I didn't have cocoa powder so made it without, still delicious. In fact between my 2 children, husband and I we polished this off one Sunday afternoon.

This was cerainly an easy cake to make - throw it together, beat it and bake it. Unsure of what is considered a "large" tin or "small" tin, I randomly chose a 9X13-inch cake pan. It worked great; rose up nicely & filled he pan. It wasn't as chocolatey as what I usually make but a good change. The coffee addition was a nice one. Re: the butter & spice - I went with 1/3 cup butter and added 3 tablespoons of spiced apple butter. Baking time was considerably less in my oven - a flat 30 minutes and it was done. Thanks for sharing your recipe! It's a good one to have on hand for a quick, tasty dessert.