Three Tomato Vegetable Sauce (Canning)
Sally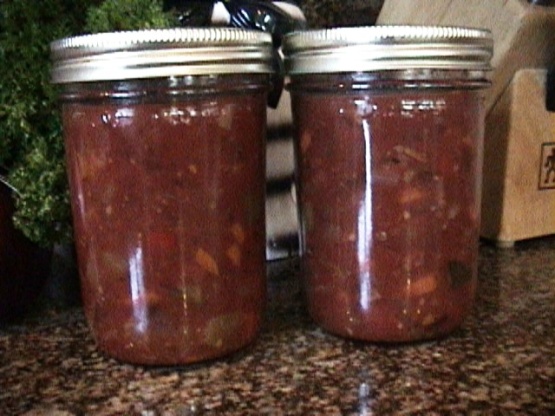 This recipe uses regular, plum and sun-dried tomatoes plus zucchini, carrots and more. The red wine gives it a wonderful flavour and it's very versatile. Another favourite adapted from Topp and Howard.

This is such an awesome recipe!!! I had way to many heirloom tomatoes and this was a great way to use them up. I canned some and froze some just to see the difference in the end product. My only recommendation is to not use cheap red wine...the better the wine the more flavor that's in the sauce. I also used some port wine vinegar in one batch when I ran out of red wine vinegar. Thanks again for a new staple in our house!
10

plum tomatoes, peeled and chopped

10

large tomatoes, peeled and chopped

4

garlic cloves, minced

2

stalks celery, chopped

2

medium carrots, chopped

1

large onion, chopped

1

large zucchini, chopped (about a 10-12 inch zucchini, no monster zucchini)

1

large green pepper, chopped
1⁄2 cup sun-dried tomato (dry, not oil-pack)
2⁄3 cup red wine
1⁄2 cup red wine vinegar

1

tablespoon pickling salt

2

teaspoons dried oregano

2

teaspoons dried basil

1

teaspoon sugar
1⁄4 teaspoon pepper
1⁄2 teaspoon crushed red pepper flakes (optional)
1⁄4 cup fresh parsley, chopped
Combine tomatoes, garlic, celery, carrots, onion, zucchini and green pepper in a large pot. Add 3/4 cup water and bring to a boil.
Reduce heat and simmer, uncovered, for 25 minutes until sauce begins to thicken.
Soak sun-dried tomatoes in boiling water until softened. Drain, chop, and add to sauce.
Add wine, vinegar, bay leaves, salt, oregano, basil, sugar and peppers.
Continue to boil gently until sauce is desired consistency. This may take up to an hour.
Discard bay leaves and stir in parsley.
Ladle sauce into hot sterilized jars to within 1/2 inch of top and seal.
Process in a hot water bath 35 minutes for pints, 40 minutes for quarts.
Yield will vary according to your ingredients.
Use on pasta adding fresh herbs, grated cheese and/or additional vegetables. Add a protein such as beans, sausage or tofu for a complete meal. Stir into soups or stews. Add to casserole dishes. This sauce can be used in many ways.
Time does not include processing time.