teresas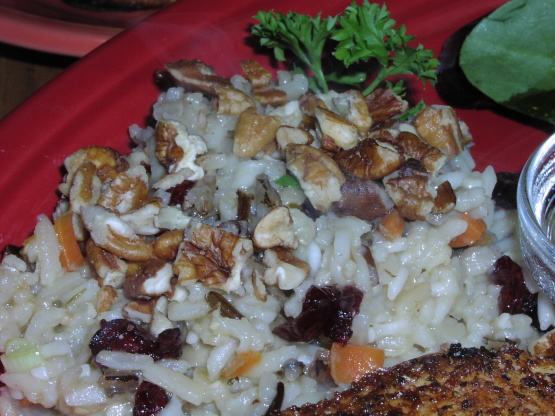 If you are looking for a wonderful rice side dish to serve for you guests, then this is it! A delicious blend of flavours, along with dried fruit makes this dish a winner. Add in some fresh garlic when you saute the onions if desired. Adjust all seasonings to taste.

Great & tasty rice. There's abit of a process from start to finish but worth the effort. Nice vegys & right proportions of ingredients. Only changes I made was that I soaked the cranberries in hot water before chopping & didn't add the nuts due to personal preference. Served with pork tenderloin w/mango chutney and complimented the flavours nicely, thanks for sharing.
In a large saucepan, saute brown rice, carrots, onions, and mushrooms in 2 tablespoons oil (you can use a tablespoon more oil if desired) for 10 minutes, or until the brown rice is golden in colour.
Add the wild rice, broth, thyme and rosemary; bring to a boil; reduce heat, cover, and simmer for 25 minutes.
Stir in long-grain white rice, cover, and simmer for 25 mins, or until the liquid is absorbed, and the wild rice is tender.
Remove from heat, stir in apricots or cranberries (or a combination of both), green onions, salt and pepper.
Cover, and let stand for 4 minutes.
Sprinkle with pecans just before serving.
*Note* you may add more broth or water, and simmer a little longer if needed.
Delicious!