ImPat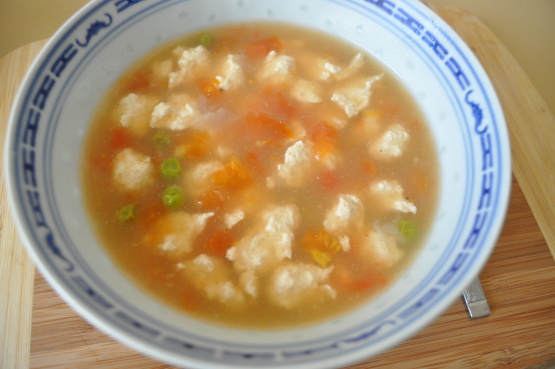 I enjoy making and eating this soup. The "three pearls" are the chicken, peas and tomato. Three contrasting colors, textures and flavors. You can use ham instead of the tomato. The original recipe used 1/2 teaspoon of monosodium glutamate and 1-teaspoon chicken fat, to be added with the rice wine. I have never done that and it seems fine, but decide for yourself. This is an elegant starter for a Chinese dinner. Reheats well.

Top Review by ImPat
I made as directed and between the DM and I well there is only one serve left and she has already claimed that for tomorrows lunch. I used recipe #54127 for the stock, my chicken breast was 6 oz and the 2 vine ripened tomatoes were wonderfully fresh and frozen peas. All up from start to finish was about 45 minutes. Thanks Pets'R'Us, made for Photo Forum May "Farm Cooking"
Remove sinew and membrane from the chicken breast, chop or mince very finely to almost a paste.
Mix with ½ a tablespoon of the cornflour, milk, add the egg white and blend well.
Skin the tomatoes, cut them in small cubes about the size of the peas.
Bring the stock to the boil; add the peas and the tomatoes, when it boils again remove from the stove.
With one chopstick pick up a little of the chicken mixture and drop that in the stock, go on until all the chicken is used up and you have lots of chicken bits/balls pea size.
Put the pan back on high heat and bring to the boil again, mix the one-tablespoon of cornflour with some water, add to the soup, then add salt, white pepper and 1 tablespoon of the rice wine.
Do a last taste check and serve.