Three Onion Soup Gratinee
Nimz1466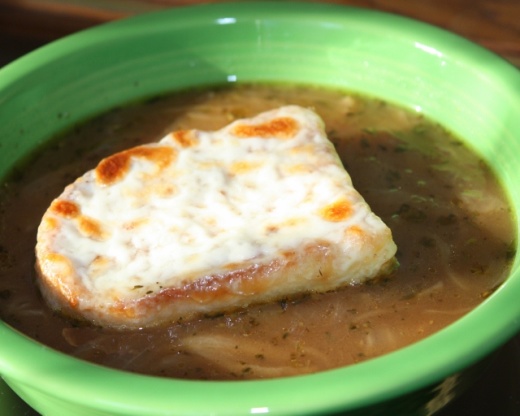 DH was out of town on a business trip and came home raving about this soup. This soup is a wonderful combination of sweet onions (Vidalia work well when in season.), red onions and yellow onions. I was able to find this recipe posted on another web page. Hope you enjoy!

Good soup Paula! I used shredded Parmesan cheese and added a little white cooking wine.
Made for Chef Alphabet Soup game.
In a large soup pot, melt butter oven medium-low heat.
Add all the onions along with 1/4 tsp black pepper.
Saute until onions turn a nice golden brown or caramelize, about 25 minutes.
Stir occasionally to prevent the onions from sticking to the pan.
When onions are brown, add the flour and stir until it disappears.
Turn heat to medium-high and add both stocks and the thyme.
Bring to a boil, lower the heat to low, cover and cook until soup is slightly thickened and is a medium-brown in color.
This should take about 1-hour, taste and adjust seasonings as necessary for personal taste.
Preheat the broiler and ladle soup into broiler-proof bowls.
Place 1 slice of toast in each bowl and top with the cheese.
Heat under the broiler about 3 to 5 minutes or until cheese is brown and bubbling.
Serve immediately.