Three-Meat Stuffed Peppers
deefair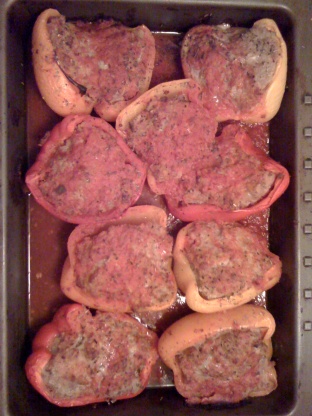 This is a great oven-baked stuffed pepper recipe. Cutting the peppers lengthwise gives you pepper with every bite. I've used these as an entree and as an appetizer. Enjoy!
Cut peppers lengthwise; remove core and seeds. Set aside.
In large bowl, mix meat, eggs, breadcrumbs, garlic, shallot, and all of the tsp of spices.
Add rice to meat mixture and combine.
Fill pepper halves with meat filling.
Pour a layer of red sauce on the bottom of a 9x13 pan.
Place peppers in pan.
Pour the rest of the red sauce over the peppers.
Sprinkle peppers with remaining 2 tsp of oregano.
Bake at 350 degrees for 1 hour.
Serve with rice, mashed potatoes, or pasta.