DuChick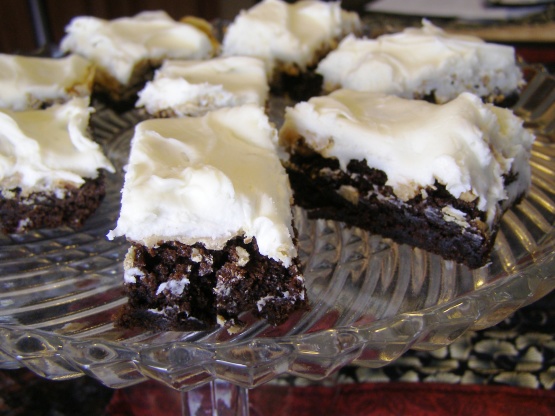 One of the few recipes I make using mixes and cans, this is a fantastic dessert. It tastes amazing, looks great, and is amazingly easy. And it disappears almost as quickly as I put it down. I got the recipe from a neighbor after 6 months of begging (and 2 weeks of cat, dog and rabbit sitting). She almost never gave it out because it was her most requested recipe and everyone always thought she worked for hours. Don't substitute regular or fudge for the dark chocolate brownie mix. It makes a difference in the final flavors. And make it the night before so the texture and flavors have time to set.
1

(19 1/2 ounce) box dark chocolate brownie mix

2

eggs
1⁄3 cup water
1⁄2 cup oil

1

(10 ounce) package peanut butter chips

1

(16 ounce) canprepared cream cheese frosting (You can use your favorite homemade if you prefer)
Prepare the dark chocolate brownie mix as directed on the package.
When they are just done, remove from the oven, sprinkle with the peanut butter chips, cover with a cookie sheet and let sit for 5 minutes; remove cookie sheet and spread melted peanut butter chips over the brownies.
Let cool until the peanut butter chips are firm enough to not get messed up when you frost them (put them in the refrigerator for a little while if necessary).
When cool, frost with the cream cheese frosting and let sit at room temperature, uncovered, overnight so the flavors blend and the top of the frosting dries to a bit of a crust.
Serve at room temperature.
This is so good!
*NOTE:These ingredients are to be used to prepare the dark chocolate brownie mix; if your mix calls for different amounts, use the package directions.