Three-Ingredient Cocktail Sauce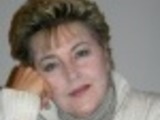 I've never liked the bottled cocktail sauces (too sweet, too salty, never spicy enough!), so I've been making my own for years.
Directions
Scrape lime to get approximately 1 teaspoon of zest. You can use a grater, but a zester really yields the intense flavor and no bitterness. Zest the lime BEFORE you cut it.
Pour catsup, horseradish, lime juice & lime zest into medium bowl.
Stir thoroughly.
Chill & serve with shrimp or other seafood.
Reviews
Most Helpful
I loved this cocktail sauce, especially the lime juice! Easy and delicious! I will keep this recipe handy! Reviewed for ZWT4

Nice cocktail sauce. Much better than store bought and very easy to prepare. The lime was very pronounced in this sauce--I might scale back a bit on the lime and increase the horseradish to make it a bit hotter. I agree with TLu, another 1/2 Tb would do the trick on the horseradish. Made for Zingo ZWT4.

I will not buy store bought again. Love the flavor. We like it hot so added about 1/2 Tbsp more of the horseradish. Thanks for a keeper! Made for ZWT 4.