Zurie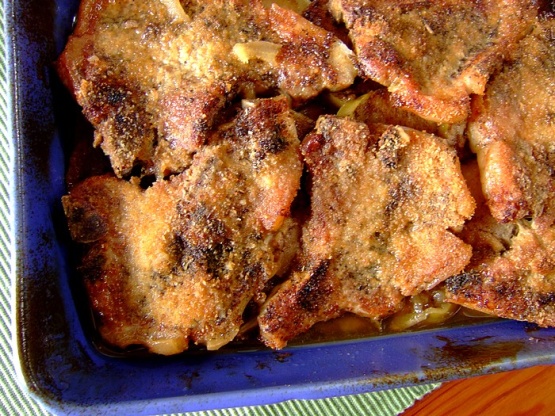 Pork chops, sweet potatoes and apples. yum. Thanks zurie for pointing out the last line, not sure how it got in :) Fixed it.

We really enjoyed the flavors in this dish. I cooked as posted. I did use thin chops so added them after 15 mins of cooking time. The apples and potatoes come out so tender. I have to agree with some of the other reviewers that you can't taste the sage. I cut the recipe in half and used an 8X8 size pan. Thanks for posting. :)
Pare sweet potatoes and slice.
Cut apples without peeling in thick slices. Place the sliced potatoes in a greased baking dish and sprinkle with half the salt.
Add the sliced apples, sugar and cinnamon. Arrange the pork chops on the apples, and season with remaining salt, pepper and sage.
Add hot water and bake in a moderate oven (350° F.) for about 1 hour, or until chops and potatoes are seasoned to taste, and are well done.