Three-Herb Drumsticks (Weight Watchers)
ImPat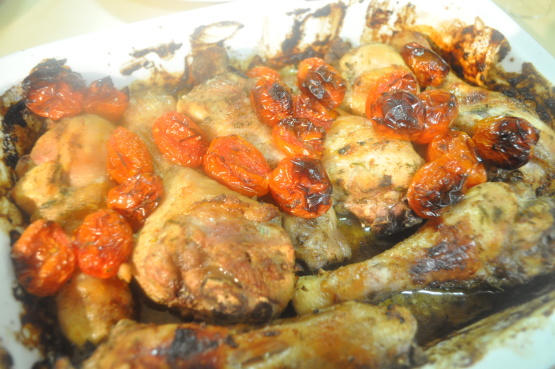 A healthy recipe containing roasted skinless chicken drumsticks coated with lemon juice, garlic, sage, rosemary and thyme. I found this recipe in the Jan/Feb 2010 Weight Watchers magazine. Points Value: 5

Super easy, will add more tomatoes next time and maybe mushrooms
Preheat oven to 425°F Spray large rimmed baking sheet with nonstick spray.
Place drumsticks on baking sheet. Mix lemon juice, garlic, sage, rosemary, thyme, oil, mustard, salt and pepper in small bowl; pour over drumsticks and toss to coat. Add tomatoes.
Roast until drumsticks are cooked through and tomatoes are softened, about 40 minutes, turning drumsticks once halfway through roasting time.