SharleneW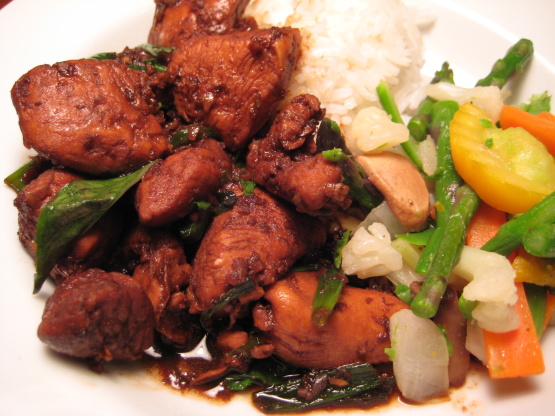 This is a traditional Taiwanese dish that we always order in our favorite Chinese restaurant. I begged the chef for this recipe and he very reluctantly gave it to me! I just made it for dinner tonight and couldn't wait to post this to share it with all of you!

Wow. Really good. I used all the correct ingredients, but I ended up marinating the chicken in the sauce for over a day. Then as I was cooking the chicken, I added the first garlic portion to it. It came out really good. Next time I think I will do the sauteeing of the garlic, etc., and then make the sauce and marinate the whole thing together. Thanks for posting a great recipe.
Heat up the sesame oil in a wok or a large skillet on high heat.
Add garlic, ginger and serrano peppers, stir fry until fragrant, about 2 minutes.
Add the chicken pieces and cook until it's white in color, about 5 minutes.
Stir together the soy sauce, rice wine and sugar in a bowl, pour over chicken.
Bring to a boil, then turn down the heat to low.
Let cook, uncovered, until sauce thickens, about 30 minutes.
Turn heat back up to high and add basil and scallions, cook for another 2 minutes.
Serve over steamed rice.