Three-Cheese Tortellini With Creamy Italian Sausage Marinara
Annacia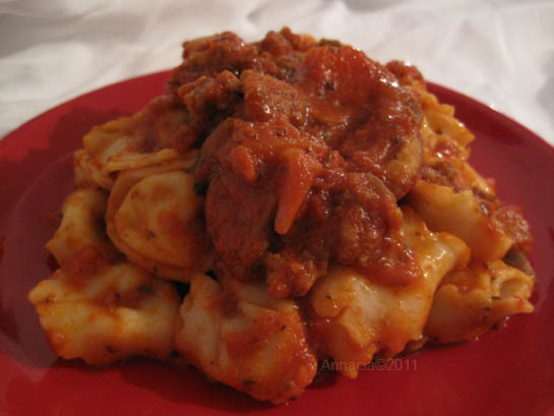 This is a dish I invented to try and get my picky-eater son to eat something other than macaroni and cheese, hotdogs, or hamburgers! He always thought regular marinara sauce was too "strong tasting"....I think it is just too acidic for him. However, he loves cheese and loves italian sausage. Much to my surprise, I have found that I love this dish as well. I prefer to make the sauce myself, but if you are pressed for time, substitute your favorite pre-made sauce and just add the italian sausage and cream. If you aren't a fan of italian sausage, substitute 1/2 the sausage for ground beef or ground turkey. The rosemary is optional. I like it, but some don't like the taste. If you don't have a picky eater, I would add some mushrooms and possibly some bell peppers. I think those would be nice with the dish.

Finding this grand recipe was a stroke of serindipity. I had everything on hand including peppers and mushrooms that were beginning to age. This makes a delicious meal and one that DH didn't cover with ketchup (giant compliment!). Fortunately there is enough left over for us to enjoy it again :D. Yum-O
In a large, heavy stockpot or dutch oven, brown the Italian sausage, breaking it up to the consistency you desire.
Add the onions and cook until they are soft. Drain the grease from the pot.
Add garlic, crushed tomatoes, tomato paste, water, basil, oregano, parsley, marjoram, sugar, salt, pepper, and rosemary (if desired). When adding the water, consider how long you will be simmering. The water helps to merge the flavors, but you do not want the sauce to be too thin. If you will be simmering your sauce for a shorter amount of time, add less water. Stir all these ingredients together and bring to a slow boil.
Stir in red wine.
Simmer on low for at least an hour. Then add the cheeses and the heavy cream. Stir well, until the cream and cheeses are well blended into the sauce. Stir occasionally while the tortellini is cooking to prevent the sauce from sticking and to prevent the cream from scorching.
Bring water to a boil in another pot for the tortellini. Add a little olive oil to prevent the tortellini from sticking. Once the water comes to a boil, add the tortellini. Cook according to the package directions.
I usually reserve some of the sauce for spaghetti for another day -- I add some sauteed mushrooms then. I try to ration the sauce to the amount of tortellini. If you like lots of sauce, use all the sauce. But if not, save some for another pasta dish. It freezes well. At my house, it never lasts long enough to freeze!