Three Cheese Pesto Pizzas
Nikoma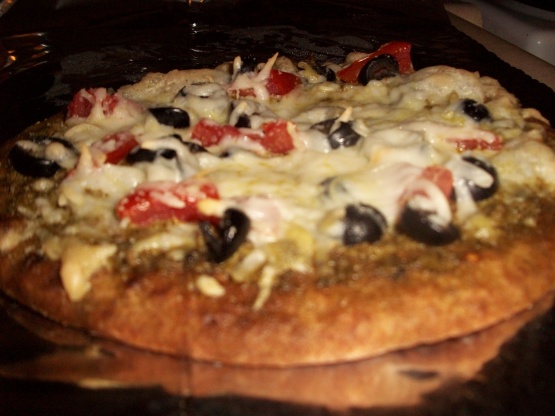 These are delicious! Individual sized pizzas on pocketless pitas!

Since I homeschool our children, lunches are usually more then pb&j, and a piece of fruit. That means I am always on the lookout for something the kids will enjoy, that is healthy, and simple or quick to prepare. These pizzas fit the bill perfectly. This round we only topped them with sliced olives however; next time we will load them up with lots of fresh veggies. Thank you for sharing this recipe. Made and reviewed for Spring PAC 2011
Set oven to 425.
Mix cream cheese with milk until smooth. Spread over pitas.
Spread 1 tbsp pesto over cheese on each pita.
Top with sliced olives (to your liking).
Sprinkle with mozzarella.
Top with parmesan and parsley.
bake 7-12 minutes.