Prep 30 mins
Cook 20 mins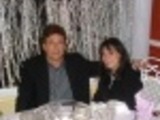 Good Food Magazine, March 1987
Directions
Heat oven to 350 degrees.
Mince yellow onion; stem, seed, and finely dice bell pepper (there should be about 1/2 cup each). Mince scallions. Heat 2 t. oil in medium skillet over medium heat. Add onion and saute until softened, about 4 minutes. Add bell pepper, half the scallions, and the cumin; cook, stirring frequently, 5 minutes. Remove from heat.
Grate Monterey Jack cheese. Place half the grated cheese, the goat and cream cheeses, salsa, and onion mixture in mixing bowl; stir until blended.
Wipe out skillet. Heat remaining 1 T. oil in skillet over medium heat. Briefly cook tortillas, 1 at a time, in oil until pliable, not crisp, about 1 minute each side. Spoon cheese mixture onto tortillas and roll up, folding ends under. Place in 10x8-inch baking dish. Spoon red chili sauce over enchildadas. Sprinkle with remaining grated cheese and scallions. Bake until very hot, 15-20 minutes.
Reviews
Most Helpful
These were great. I loved the combination of cheeses. I think it could easily be made with bits and pieces of leftover cheeses in the fridge. Made for Om Nom Nommers and the ZWT!

These are wonderful enchiladas - one of my favorite Mexican foods. I never made it with goat cheese before but it was good. These were really full of flavor and hit the spot for my Mexican fix. Thanks for sharing!