Three Cheese Broccoli and Penne Bake
Redsie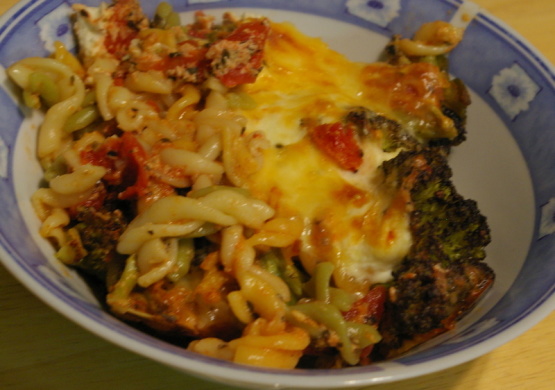 This is another of my family's all time favorite dishes! This recipe calls for an 11 x 7-inch pan, which will feed 3 people easily, I strongly suggest to double up the ingredients and bake it in a 13 x 9-inch baking pan if you are feeding more than 4 people, everyone will want seconds! I have also added in ground turkey that I cook with the garlic before I saute the broccoli, you might have to bake it in a larger baking dish if you are adding in ground turkey. to the mixture also.

This was really good! My husband had seconds though he usually refuses broccoli. Left out the ricotta and topped with feta instead and used more garlic than recipe calls for.
Set oven to 400 degrees.
Grease an 11 x 7-inch baking dish.
In a medium skillet heat oil, then add in garlic; saute for 1 minute, then add in the broccoli florets; saute for a couple of minutes, then remove to a bowl.
Cook the penne in a large pot of boiling salted water until JUST firm tender; drain.
In a large bowl, mix together marinara sauce, 1 cup mozzeralla cheese, 3/4 cup ricotta, fresh basil and 3 tablespoons Parmesan cheese; mix well to combine.
Add in the cooked penne and the broccoli/garlic mixture; toss to combine, then season with salt and pepper.
Transfer the mixture to prepared baking dish.
Spoon and then spread with 1-1/4 cups ricotta cheese (you do not have to cover completely with ricotta).
Sprinkle with about 1 cup (or more) mozzeralla cheese, then sprinkle with about 1/3 cup Parmesan cheese over the mozza cheese.
Bake for about 20 minutes uncovered or until the cheese melts.
Let stand for about 5-8 minutes before serving.