Three Cheese Beef Lasagna
CoCaShe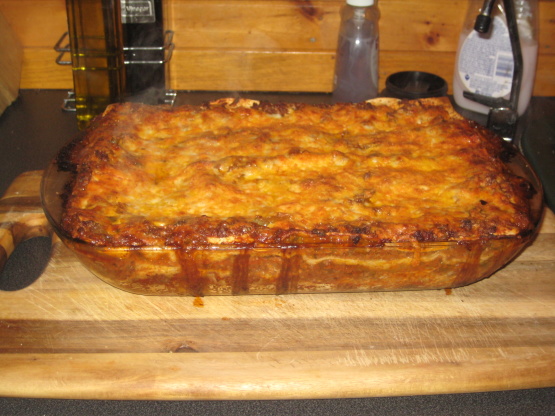 I used to have a great recipe for Lasagna sauce, but of course the book it's in is at my parent's winter home. I used about three different recipes to approximate it, so here's my current version. I made this for dinner the other night and it was fairly easy and very good. This recipe is written for use with fresh Lasagna sheets, the ones that aren't dried and you don't have to boil or anything. You can just as easily use the dried pasta, just boil according to the package directions and use in place of the sheets.
29.58

ml olive oil

3

onions, chopped

3

garlic cloves, crushed

453.59

g lean ground beef

236.59

ml red wine

156

ml can tomato paste

236.59

ml tomato sauce, plus enough to top off tomato paste to one cup

236.59

ml tomato juice (I used low sodium, high fiber V8)

4.92

ml dried basil

4.92-14.78

ml italian seasoning

1

green bell pepper, chopped

236.59-473.18

ml button mushroom, cut into bite-sized pieces

2

celery ribs, chopped
salt and pepper

6-8

fresh lasagna sheets

226.79

g container ricotta cheese

1

ball mozzarella cheese, shredded

118.29

ml parmesan cheese

2

eggs

236.59

ml mozzarella cheese, shredded, although I used marble cheddar and it worked just as well
Heat olive oil over medium heat. Add onion and garlic and cook until soft, but not browned, about 5 minutes.
Add ground beef and cook until no longer pink, stirring frequently. Add the red wine, cover and cook for 5 minutes.
Add tomato paste, tomato sauce, tomato juice and spices and mix well. Add vegetables and mix to combine. Heat through and add extra wine until desired consistency. You can make this ahead of time and leave it to cool before assembling the lasagna.
In a large bowl, combine ricotta, first portion of mozzarella cheese, Parmesan and eggs.
Spray a 19X13 lasagna pan with non-stick spray. Use a bit of the sauce liquid on the bottom of the pan to keep the first layer of noodles from sticking. Put down a layer of lasagna noodles, then top with globs of cheese mixture and about one half of the meat mixture. Repeat and top with a third layer of lasagna noodles. Try to have a bit of the meat sauce left to put on the top layer just to keep it moist. Top with second batch of mozzarella, or any shredded cheese you have on hand.
Pre-heat oven to 375°F Bake for 30 minutes, covered with foil. Try not to press the foil down too much, as the cheese will stick when it starts to bubble. Remove the foil and bake for an additional 10 minutes. Let stand for approximately 10 minutes before cutting.