Parsley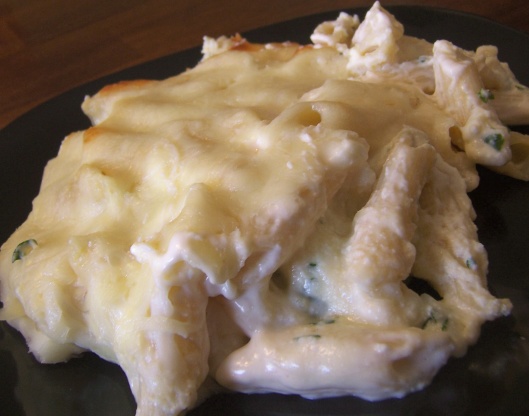 Adapted from Southern Living April 2006. This is a very mild flavored cheese dish. Edited 3/28/07 to add extra seasoning.

I made this based on the recipe from Southern Living, not from this site. Definitely consider Juanessa's recommendations. I would also mix all ingredients except for a sprinkling of mozzarella cheese on the top. This would make it a better dish.
Cook pasta according to package directions; drain and return to pot.
Stir together Alfredo sauce, sour cream, minced garlic, 1/2 teaspoon kosher salt, 1/4 teaspoon black pepper and 1 teaspoon Italian seasoning; toss with pasta until evenly coated.
Spoon half pasta mixture into a lightly greased 13 X 9 inch casserole dish.
Stir together ricotta cheese and next three ingredients; spread evenly over pasta mixture.
Spoon remaining pasta mixture evenly over ricotta cheese layer.
Sprinkle with mozzarella cheese.
Bake at 350 degrees for 30 minutes or until bubbly and heated through.