Three-Bean Vegetable Soup
Prep 1 hr 30 mins
Cook 1 hr 30 mins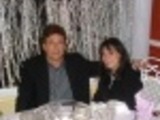 From "Full of Beans", Good Food Magazine February 1988
1 cup dried pinto bean, rinsed
1 cup dried red kidney beans, rinsed
1 cup dried small white beans, rinsed
3 teaspoons olive oil
2 medium onions, finely chopped
2 celery ribs, finely chopped
2 medium carrots, pared, finely chopped
1 (46 ounce) can chicken broth
4 cups water
1 (16 ounce) can plum tomatoes, drained, seeded, coarsely chopped
3 garlic cloves, minced
1⁄2 cup fresh parsley, finely chopped
1 bay leaf
salt & freshly ground black pepper
freshly grated parmesan cheese (to garnish)
sour cream (to garnish)
1 medium tomatoes, diced, for garnish
Directions
Soak beans overnight in plenty of cold water; or boil 2 minutes, cover, and let stand 1 hour. Drain beans.
Heat oil in Dutch oven over medium heat. Add onions and cook, stirring occasionally, until softened. Add celery and carrots and cook 3 minutes longer.
Add broth, the water, beans, tomatoes, garlic, 1/4 cup parsley, and the bay leaf. Boil uncovered 10 minutes. Reduce heat and simmer uncovered until beans are tender, about 1 hour. Remove bay leaf.
Puree half the soup in food processor or blender and return to saucepan. Season with salt and pepper and stir in remaining 1/4 cup parsley.
Serve soup hot with Parmesan cheese, sour cream, and tomato.
Most Helpful
This is alright in taste. I had a huge issue with cooking the beans though as it took hours and hours even after soaking for 2 nights! But I believe it may have been because I used more homemade chicken stock than called for and it included sea "salt" which I have heard prevents beans and lentils from cooking well. Even after 4 hours of simmering and adding more water a number of times they were still a little harder than we would have wanted. I am not taking a star off because of this issue because it may have been my fault. I would call this bean soup even though it has vegetables as it is beans with a very small amount of vegetables. I used 1 cup dried pinto beans, 1 cup dried small red beans, I left out the 1 cup dried small white beans as I didn't have any on hand, I used unrefined extra virgin olive oil, organic carrots, sea salt, plus the rest and garnished with, Balkan (thick) yogurt to be corn free, and the diced fresh tomato. Made for Please Review My Recipe tag from January 2nd, 2011.