Thorsten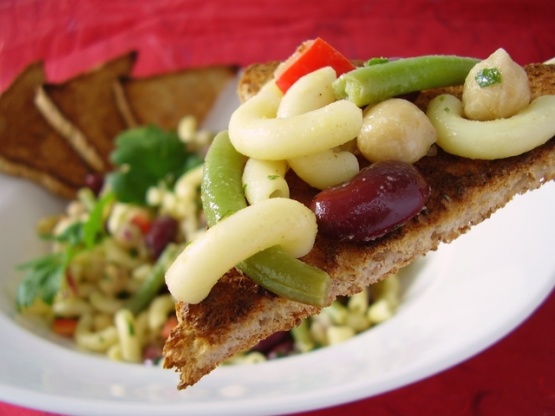 This is fast and easy. Gets you out of the kitchen quickly on those hot summer days. Goes great with a tall frosty drink.

3 beans and pasta, an unbeatable combination of flavours and healthy too. I used elbow macaroni and have cooked the green beans for a few minutes, because I have used frozen but uncooked beans. Recipes by Happy Harry are always so creative, full of flavours and colourful. And this one is no exception. The combination of three differnt beans varieties is great and the vinegar just supports the flavours. The mustard adds the right amount of pepperines and the red bell pepper more colour and some sweet notes. The different flavours and textures, e.g. the kidney beans (soft), the chickpeas (more nutty flavours), the green beans (crispy), and the pasta, which blended all the different flavours so well, makes this salad a delicious treat. And the salad gets better and better. The leftovers we have had during the next day were even better. This salad is so easy to make and you can make it in advance for a large numbers of guests. And believe me, your guests will be delighted. Not that it looks so delicious, it tastes likes it looks - fantastic. Thanks again, Happy Harry for a wonderful recipe.
Set a large pot of water to boil while you prepare vegetables.
Cook noodles as directed on package.
Rinse with cold water & drain.
Toss all ingredients together.
Chill & serve.