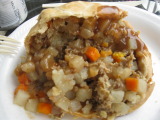 This is my wife's recipe. I'm not a big bean eater, but this is SOOOOO good!!! IDK where she got it, but I'm putting on the Zaar for safe keeping!
Directions
Melt shortening in a large fry pan.
Brown ground beef, bacon & onion together.
Season to taste with Lawry's Season Salt & Black Pepper.
Drain & discard fat.
Stir in the brown sugar, ketchup, vinegar & dry mustard.
Cover & simmer on med. low for 20 minutes, stirring occasionally.
Drain the kidney beans & butter beans. DO NOT drain the baked beans!
Stir the ground beef mixture & all the beans together & place into a 2-3 quart casserole dish & bake uncovered for 40 minutes at 350°.
NOTE: You can place all ingredients into a 4 quart crock pot & simmer for several hours on low instead of baking in oven.
Reviews
Most Helpful
This is just like my Mom's Three Bean Hotdish recipe...delicious!! I love how simple and yummy this recipe is...I think I could it this everyday if I let myself ;) The only thing I did differently was to leave out the Crisco, I just didn't think it need it and it turned out perfect. Great recipe!!

I made this last night for dinner and it was wonderful! Because of time constraints I didn't have time to bake it. I threw everything in the pan after browning the bacon & beef and let it simmer for 25 min. Tasted great, thanks so much for sharing your recipe!