Three Bean Award Winning Chili
CJAY8248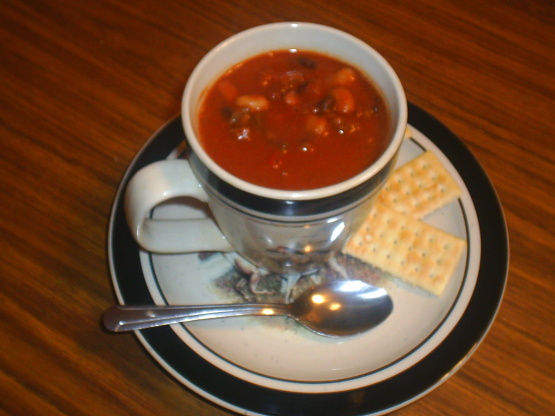 I like chili and when I make it I like to make a big pot of it. This recipe makes about 2 gallons and has won 1st and 2nd place in chili cook-off contests. This chili will have just a touch of heat, so If you like spicy chili, double up the jalapeno and cayenne pepper. This recipe works well with venison too.

I have made this chile 2 times now. Each time it was for a chili cook off at my wife's work. Once in Florida and once in Arizona. It won both times with everyone loving the chili. The 2nd time I added a little more cayenne powder and a few more jalapenos to add to the heat of the chili. The chili will taste better the 2nd day after letting it set over night and reheating it the next day. Update to last posting, another 1st place in the chili cook off. That makes 3 for 3 everyone loves the chili.
add salt, black pepper, garlic powder to ground beef and cook with onions and red/green peppers in dutch oven.
drain excess grease.
add balance of ingredients.
cover and simmer for 90 minutes or more.
serve with toppings.