This Treat is a Purple Passion Cooler
This delicious cooler is a great pick me up, perfect for those hot humid days, that are just around the corner. You will find that this cooler is smooth, creamy, sweet, tart and tangy, with the predominant flavors being the coconut, blackberry and pineapple. It's sooo good.
Directions
Put the prepared blackberries, pineapple chunks, mandarin oranges and mandarin juice, frozen yogurt, honey, coconut milk and ice cubes in the blender and process until smooth and creamy.
Pour into a chilled glass, garnish with pineapple and serve immediately.
Reviews
Most Helpful
i really picked up the manderian orange flavor this is a very flavorful smoothie i used raspberries instead of blackberries good stuff

This was really exceptional, and I found the blackberries to be an unusual combination with the tropical flavors. I used fresh blackberries and fresh pineapple. The color was also really pretty. Thanks for posting this. Made for Every Day is a Holiday Tag Game.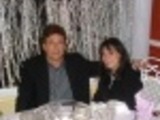 Wonderful flavor!!! The pineapple chunk just made this cooler!! I made one-half the recipe since I only wanted 2 servings. DH and I enjoyed it immensely and will have this beverage again in the future. Thanks for posting this one. Prepared as a participant in the Sept 2009 Aus/NZ Swap #32 Event.