Thirteen Coins Breast of Chicken Parmigiana
Catnip46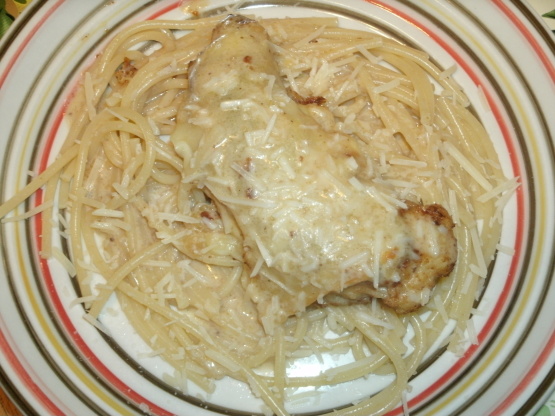 This is from a restaurant in the Seattle area. It's very quick to make, and I cheat by using a bottled alfredo sauce. Serve with pasta on the side.

This is definitely restaurant quality. A 5 plus star for sure. I used chicken strips, plain bread crumbs instead of Italian breadcrumbs. I made a plain simple white sauce in the same pan I browned my chicken in making sure to scrape in all the brown chicken crumbs that I could. Oh yeah I used plenty of butter in my sauce. I served this on a bed of spaghetti, topped with the chicken, sauce and then freshly shredded Parmesan cheese. This was sinfully good.
Season chicken with salt, pepper, and garlic. Dip in beaten eggs and dredge in Italian Bread crumbs. Lightly brown in butter (clarified butter is really the best for this).
Remove from pan and place in a 350ºF oven with 2 slices of Mozzarella cheese on each breast. Leave in oven until cheese is lightly browned. Add cream sauce to remainder left in frying pan.
When cream sauce is hot, place a ladle of the sauce onto the plate, and then place one chicken breast on top. Sprinkle with grated Parmesan cheese.