Thingies (Layered Dessert Bars)
Katzen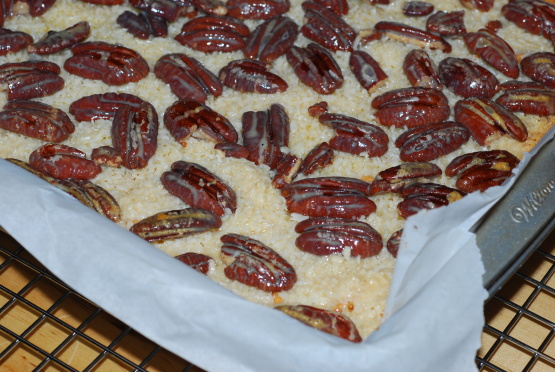 These are just perfect for that sweet tooth craving! They seem too simple but really are good. It is my Grandmother-in-law's recipe and she gave it to me.
Top Review by seesko
These are Awesome! I am so bummed because the picture I took didn't turn out well and since we had company last night they were pretty much demolished. I am one of those who think that warm cookies taste better. Not these. These are better cooled in my opinion. There is alot you could do to play around with this recipe. Honey wants me to make them again with peanut butter chips this time. Be sure they are completly cooled before cutting as they will fall apart some. Hubby made the comment that it seems more like candy than cookies. I would like to try these with a grahmn cracker crust. These will definatly be on tth cookie trays at Christmas time. Made for PAC Fall 2008.
Preheat oven to 325 degrees Fahrenheit.
Melt butter and add to a 9x13 pan.
Add chocolate chips.
Add butterscotch chips.
Add coconut.
Add chopped pecans.
Pour sweetened condensed milk over top.
Gently shake pan.
Bake for 25 minutes.