Nif_H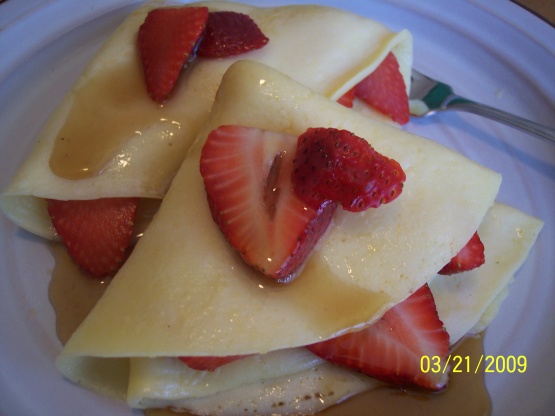 A very delicious breakfast for the whole family. Serve with eggs and bacon.

Top Review by Nif_H
I thought that these would be a lot like the crepes that I make, but they weren't. They were "eggier" and really really good and my youngest DS said that they way better than regular pancakes. I made 6 big pancakes with fresh strawberries and the syrup, which was excellent. I let the syrup boil for about 5 minutes while I was cooking the pancakes, but once it cools it gets thicker so I don't think I had to do that. Just a note that I put a lid on the pan after I poured the batter in and they fluffed up quite a bit. Awesome recipe and we will definitely be making them again. Made for PRMR. Thanks!
FOR PANCAKES.
beat eggs , flour, salt, and sugar until smooth.
beat in milk, and vanilla.
Fry in well buttered skillet.
Serve with strawberries, and jelly.
FOR THE SYRUP.
Boil ingredients until clear.
add butter and serve hot.